EGP Seasons 2010 to 2019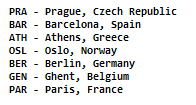 In 2013 Greece joined the list of EGP tournament hosts with a new stage in Athens, making the 2013 EGP a seven tournament circuit.
Katie Wu (now Katie Pihlajapuro) won the penultimate stage in Ghent, the first woman to win an EGP tournament.
The season finale in Paris was very exciting as Takuji Kashiwabara needed nothing less than a win to have any chance of overtaking Francesco Marconi for the EGP title, or so it seemed...
Takuji reached the Paris final where he faced Keita Ohmori of Japan. The final ended in a tie (28-36, 32-32, 36-28) but Ohmori was declared the winner as he led the 11 round standings. It looked like Francesco had won his first EGP title, but based on the EGP rules, as the final was tied, Takuji would get 170 points (sharing the points for 1st and 2nd) rather than the 140 points for second place. The extra points was just enough for Takuji to overtake Francesco and claim his 7th EGP title.