A letter from the W.O.F. president.
1 October 2017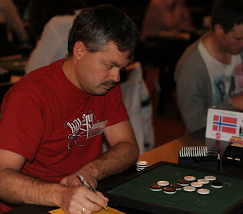 When you read this article, you have already been introduced to the new homepage for World Othello Federation (WOF). If you have played Othello for a while, this is probably not the first time you have seen a new homepage for WOF. There have been several attempts to make a good homepage during the last years, so why a new homepage again? Well, there are several reasons for that. One of them is that homepages often has been created by one or a few persons, and to develop them or change something we have been dependent of those person(s). And they are unfortunately often busy with others things in addition to Othello. The new homepage is developed in cooperation with a professional company based on new and common technology. So further development should be easier.
Another reason for building a new homepage is that we have wanted to collect all Othello-related information at one place, and also to integrate the information. The idea is that either you are looking for rating, liveothello, news or anything else about Othello, you should find it all at www.worldothello.org. All functionality isn't available yet, but new functionality will be introduced consecutively the next year.
The new and modern homepage is part of WOF's strategy to become a more professional organization. Together with Megahouse and the new Othello-licensees, we want to make Othello more well-known all over the world. To do that, we think that a professional-looking homepage with relevant information is important. You can all contribute to this by helping us to have updated information of your country's contact persons and Othello-activity at WOF's new homepage.
In a month the 2017 World Othello Championship will be arranged in Ghent, Belgium. A lot of people have been involved in preparing the tournament, and this year's tournament will have a larger focus on media than ever. This is also an important part of both doing WOF more professional and to make Othello more well-known. As usual you will of course be able to follow the tournament on both liveothello and by updated results round-by-round. But this year you will also find a lot of information on YouTube, Twitter, Instagram, Facebook etc. The World Othello Championship 2017 introduction video is already released on YouTube!
So, what does all this mean for you and me and the future of Othello? Hopefully that especially new Othello-players, but also players that have played for several years, will be met by Othello-information that inspire them to continue to play Othello. A lot of youth activity have been started during the last years, and younger people have more requirements and expectations of how they are introduced to new things than maybe older people have. So I hope the new homepage together with focus on greater use of social media in the Othello context will give the Othello community a good platform for further development of Othello.
I want to say a great thank you to all that have contributed to development of the new homepage and preparing the upcoming World Othello Championship. And of course, to all of you that use a lot of time to introduce new players to the game we all love.


Best,
Tor Birger Skogen
President, World Othello Federation