Eleven-year-old Keisuke Fukuchi new ruling world champion!
2 December 2018Written by WOF Social Media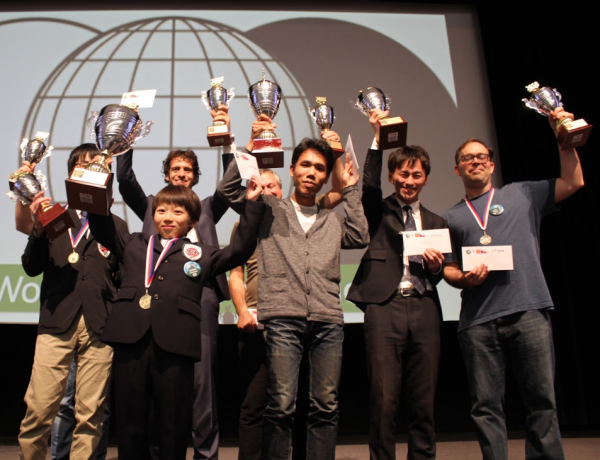 We have a new Othello World Champion! Keisuke Fukuchi.
He is the youngest world champion, ever. Kunihiko Tanida was fifteen when he won in Stockholm 1982 but Keisuke Fukuchi is eleven years old, and he now holds the title of Othello world champion.

Despite his young age, however, Keisuke is not an inexperienced Othello player. He started playing as a five-year-old, and in 2014, at seven years old, he won the Japanese Junior Championship; which he also did in 2015 and 2018. Keisuke was also in the final of the Japanese Youth Championship in 2016, where he lost to Masaki Wada who played in the first Youth World Cup and became the first Youth World Champion. In 2017 he lost the Youth final against Akihiro Takahasi, who later finished second in the 2017 WOC in Belgium.

By December 2014, his rating had risen to over 2000, and since June 2017 he has remained constantly over 2300.
Keisuke was ranked 4th before the tournament started and was expected to at least take a semi-final spot. The tournament started off well for Keisuke. After the first day, he had six wins out of seven games, only losing against Takuji Kashiwabara, of France, Fukuchi was tied for second in the tournament with Michele Borassi, of Switzerland, and Yusuke Takanshi., also from Japan, only behind Piyanat Aunchelee, from Thailand; who was in first place.


The first match of the second day was between Keisuke and Aunchelee. A match that Keisuke won with 41-23. In round eight, Keisuke and Yusuke played against eachother, and the match ended 32-32. Keisuke finished the main tournament in second place with 11.5 points out of 13. This made his semi-final opponent the reigning World Champion, Yusuke Takanshi.

In that semifinal Yusuke won the first game, 37-27. Then Keisuke won the following two with 41-23 & 34-30.

In the WOC final Keisuke played Piyanat Aunchelee, World Champion 2016. Keisuke won the final with 2,5-0,5 points. (35-29, 32-32 & 34-30). They were three very close, high-level games.
See also:
The WOC final day with Keisuke´s games
The Victory Dinner there Keisuke get throphies as WOC 2018 Champion & Youth Champion
The Japan NHK TV