Kids - the future of Othello
7 July 2020Written by Benkt Steentoft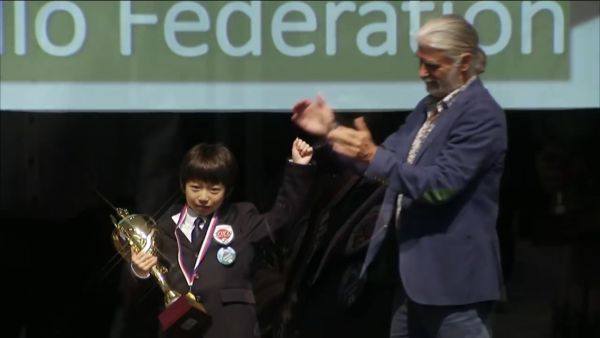 Othello is a fantastic game; everyone can play it. It does'nt matter who you are. where you live or how old you are. In the World Othello Championship we have players between 7 and up to 70 years old. Othello is a game which is great for everyone! The World Othello Federation's main purpose is to make the game well-known, all over the world and support the national federations in their work to organize Othello events and tournamnets.
In a number of articles we will be interviewing enthusiastic people and listening to their suggestions and ideas on how to make Othello more popular. We will also provide suggestions to federations and Othello clubs on how different Othello events can be organized.
This article will be about the newly formed WOF Youth group.
Kids are the future of Othello - An interview with Jens Aagard Hansen

The World Othello Federation formed the WOF Youth group committee in 2015 . It had been decided that the first Youth World Othello Championship would be held in Mito, Japan, in 2016. There were four players attending. The first Youth World Othello Champion was honored, Masaki Wada. Since then there have been three Youth WOC's. In the most recent one, WOC 2018 in Prague, Keisuke Fukuchi, from Japan, not only became Youth World Champion but simultaneously became The World Champion!
Japan have organized youth events in schools and tourneys for 20 years. Now many federations follow suit and start up youth events, and there are over 20 federations who organize youth events and tourneys.
WOF Othello News decided to interview the Youth committees chairman, Jens Aagard-Hansen.

Othello News: We start with some personal information. Who are you, Jens?
Jens: My name is Jens Aagaard-Hansen and I'm 67 years old. People call me Jens (pronounced as the English "yes" with an inserted N). I work part time as a researcher, which means that I now have more time to dedicate to Othello. I am married and have an adult son (who does not play Othello – "smile". ).

Othello News: I know you have been involved with the game Othello for long? We have met in many Othello tournaments. Now you are chairman for the WOF Youth committee. Why are you engaged in the Youth Committee?
Jens: I have played Othello for about 25 years. I consider myself a mid-level player. I will never make it to the very top, but on a good day, I can beat some of the good players. I am not very competitive, but playing a good game is a joy in its own right.
Now that I work part time, I have time to engage more in Othello. As part of my work, I have worked in schools my whole life in various capacities. So it was natural for me to explore how Othello could be introduced in Danish schools.

Othello News: Please describe the WOF Youth committee vision and purpose. Who is involved, except you?
Jens: WOF has decided to strengthen the youth activities, and in order to do that, a Youth Committee was started. I was honoured to be appointed the Chairman, and we had our first meeting in Prague 2018. The other members are Benkt Steentoft, secretary, Jan de Graaf, Bart Verstuyft, Leonid Shifman, Moises Correi Jr and Erdenebaatar Genden.

Othello News: What is the goal for the WOF Youth committee?
Jens: The general objective of the Youth committee is to support the national stakeholders (federations, clubs, individuals) in promoting Othello events for youths throughout the world and advice the WOC Council on general issues regarding youth activities.

Othello News: How can WOF Youth committee support WOF federations?
Jens: We will learn as we move along. One role is of course to advice WOF on matters of relevance. But I think the committee should very much be oriented towards the member countries, clubs and individuals all over the world. It is important for me to emphasize that the Youth committee
should not be seen as a closed and remote club, but as an agent that facilitates decentralised activities and direct contact between members all over the world.

Othello News: What is a Youth Othello event? What kind of events can a federation do?
Jens: This is a key point. It is not really up to the committee to decide. Already, there are so many exciting initiatives in all parts of the world, and great work is being done. Therefore, on the first meeting we decided that one of our key priorities should be to organize some kind of "mapping"
– to provide a way in which all these initiatives can be displayed; for instance on the WOF website, so that others can learn and get inspired. We hope to launch this initiative soon.

Othello News: How is the situation all over the world with Youth Othello Events?
Jens: It is my impression that many interesting things are happening. But as I said before, we need to bring out these many good examples in a more systematic way. I think there are so many resources and experiences out there, and if we don't manage to make them available to the rest
of the world, we will be re-inventing the wheel.

Othello News: Japan Othello Association have worked with good Youth Othello Events since many years. What can WOF Federations learn from JOA? Is it anything they also can do?
Jens: I think we are all impressed with the great work being done in Japan, and we have seen the concrete results during the past two World Championships. One obvious lesson learnt is that it takes a long haul. I think that JOA can play a very significant role in assisting those of us who are engaged in youth in other countries in various ways. At the same time it is not feasible to simply transplant the Japanese model of today to other countries. Those of us who seek inspiration should adapt it to the local culture and context.

Othello News: Many federations are much smaller then the Japan Othello Association, and dont have so many members or economy to do bigger events. What can they do to promote Othello for youths?
Jens: As I said, it takes a long haul to build up the youth work and strengthen Othello in general. We are very aware of this in countries such as Denmark where we only have a few handfuls of strong players and where the economic base is weak. So a systematic, step-by-step approach is needed.

Othello News: What is your wish for the WOF Youth committee 2019-2022?
Jens: It is my wish that the committee will succeed in our plans to reach out to the many dedicated members who are engaged in youth work and assist them in their efforts.

Othello News: Is it anything you will add as last words?
Jens: My final words will be that the timing is very right now that the WOF is prioritising youth work and more and more young talents are coming to the World Championship every year.

If you want to get in contact with Jens Aagaard-Hansen and the WOF Youth committee, you can write to them by email.

Pictures: From top.
1. Jens Aagaard-Hansen,
2. Online team tournament for youths, 2018.
3. Othello lessons in Nova Odessa, Brazil.
4. Othello lessons in school, Ulaanbaatar, Mongolia,
5. Youth Othello tournament, Alkmaar, Netherlands,
6. Othello event Shiraz, Iran.
7. Players picture Japan Youth Championship 2018, Tokyo, Japan.
8. Youth tournament, Singapore, 2014.
9. WOC 2019, Prague. All youth players together.