PAOOC 2020
6 April 2020Written by Daniel Turunen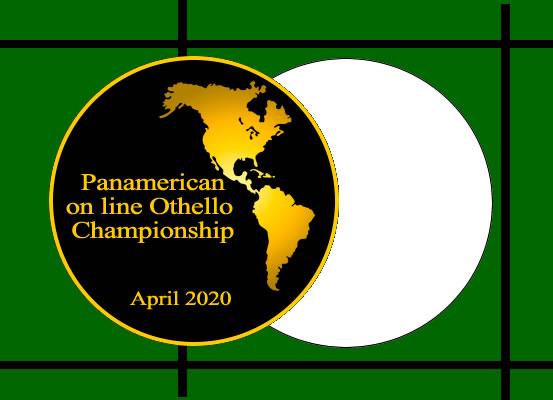 The Pan American Othello championship will be held online due to recent circumstances! There are 50 participating players from 9 different countries, including USA, Canada, Mexico, Colombia, Brazil, Uruguay, Chile, Argentina & Peru! In spite of current world events, the tournament looks to be one of the biggest tournaments of the year!
As the COVID-19 crisis continues to escalate it has forced many facets of society, and people, to get creative and adapt, as best they can, to the radically different circumstances that we live in today. This is certainly true for the board game enthusiasts, too! Most events have had to be canceled but two ingenious individuals have decided to take up the mantle and circumvent the problem by organizing their event online! I'm of course referring to the Pan American Online Othello championship (PAOC)!
The tournament was originally planned to be held in Buenos Aires, Argentina, but was canceled due to domestically implemented travel restrictions. Daniel Olivares & Kevin Ruby started to talk about the possibility of hosting the tournament online instead, and out of that notion was born the idea of the PAOC!
There are currently 50 players registered from 9 countries! Among our esteemed veterans we have Ben Seeley (USA), former world champion who has won the World Othello Championship(WOC) twice! We also have Greg Johnson from Canada who has four WOC participations under his belt and made it all the way to top 10 in 1994! Daniel Olivares & Kevin Ruby, our esteemed organizers, are also participating! Daniel has won the Pan American Othello Championship twice and participated four times. Kevin Ruby has played in the WOC once and this will be his first time participating in the Pan American Online Othello championship. We also have Maximiliano Pellizzari from Argentina. He has played & won the Pan American Othello Championship once. Lucas Cherem, from Brazil, has played in all four Pan American Othello championships. He won the championship once and finished in 4th place once. These are just a few of our contestants but it's safe to say that the competition will be fierce! Who do you think will come out on top?
Othello News: I'm wondering, how did you guys come up with the idea of holding the tournament online?
Daniel Olivares: Some players from South America, use to claim for on line tounrmants. I use to discourage that, just because I tend to priorize the board, you know, our game is a board game, on line playing sucks, etc. When we canceled the Panamerican, Sebastian Montiel, from Chile asked again (not for the first time), for an online Panamerican. And I thoguth clearly was the path for the following 2 months, at least. I dont like, and I dont encourage on line tournaments.
Kevin Ruby: The PAOC was originally going to be held in Buenos Aires in April, but that was scrapped due to travel restrictions in Argentina and other countries (including mine). So Daniel and I chatted back and forth, and thought that a tournament online would be a fun way of keeping people connected since it appears that there won't be any OTB tournaments for a while.

Othello News: How many players are currently registered to participate?
Daniel Olivares: There are 50 players from 9 countries: USA, Canada, Mexico, Colombia, Brasil, Uruguay, Chile y Argentina. Here are strong players (Ben, Greg Johnson, Maximiliano Pellizzari), and 50 players is a number!

Othello News: Do you guys see any benefits of holding the tournament online?
Kevin Ruby: Unlike in Europe, travel in this part of the world can be the primary challenge with coordinating a tournament which includes the four established Federations here. One good thing that is coming out of this is that players from Mexico are participating. I have said repeatedly that this could be a very cool thing, as Mexico City might be a centralized location that would encourage participation for those north and south of Mexico to compete in the PanAm. I chatted with Josh Led, who is interested in possibly getting a more formal team together for future tournaments and possibly the WOC.

Othello News: Are there only well-known players participating or are there people from all skill levels?
Daniel Olivares: There are people of all skill levels. Sadly, I believe that without some BIG exceptions (for example the great Ben Seeley), this hasn´t atract usual north americans players. We have a great come back (Greg Johnson, who played 4 WOCs), and the usual players from Argentina, Uruguay and Brasil. And we could get many many players never played over the board, officially. We only asked some kind of "sponsorship" Galo named it, we dindt want complete unkown players, new players known for someone, dont know if I am clear. 3 players from Chile, one from Perú, one from Mexico, only played on line before. We have one good player from Argentina that never played before over the board. Of course, the only way to grow, is to have big tournaments with as much posible players as possible, with players of all level

Othello News: What are your hopes in the broader perspective? Could this be the beginning of something more?
Kevin Ruby: I think that the PAOC is a temporary solution for now. You should emphasize that this tournament will NOT be factored into a player's WOF rating, because it's online and there were concerns that people would cheat (playing the game on one screen, opening Zebra or SaioApp on another...that kind of thing). This issue alone was a major concern for members of the Canadian fed, who were a little confused over the format
Daniel Olivares: Just you need to avoid cheaters, and more important, fear to cheaters, because if there is fear to cheater, you cant get players. That is why I am asking for transcripts, and they will be available in liveothello after each round.

Othello News: So, you use liveothello to record the games(the game & transcript)?
Daniel Olivares: No no, I have all the transcripts, and I will try to upload those to LiveOthello. We could use some help to do that, indeed. I have the wgz files of all the games played for the moment.

Links: Panamerican Online Othello Championship, April 2020 - results, games and standings
Links: See games from PAOOC 2020 at LiveOthello.com