Swedish Online Othello championship
5 September 2020Written by Daniel Turunen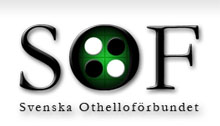 14 players participated in the Swedish Championships in Othello online on the 5th of September 2020. We had guest players visiting from Australia and India. Mathew Vinar and Roy Amar respectively.
Our most experienced player Bo Hellgren was also participating in the tournament! It was his first Online tournament ever. He have played live tournaments since 1978-
It was an exciting tournament with our Swedish elite players in absolute top form! Mathew Vinar was the only one who managed to defeat Markus Frönmark in the second round! The battle for first place was fought between Oskar Eklund, Marcus Frönmark and Mathew Vinar. However, Vinar lost to Eklund in the semifinals. The final was thus played between our Swedish top players Markus Frönmark and Oskar Eklund. After an exciting and even match, Markus Frönmark managed to win the coveted victory in the Swedish Championships in Othello 2020! Congratulations Markus!

The match for the 3rd and 4th place was played between Christopher Anderson and Mathew Vinar! Christopher managed to defeat Vinar and thus finished third place!

In the "Happy" class, the final was played between Tommy Rönn and Dominic Abreu! Abreu managed to defeat Rönn by the smallest possible margin, after a very exciting match!

The final in class "Try out Othello" was played between our most seasoned player Bo Hellgren and Erik Steen. Bo had a and thus took home the victory in the final!

A big thank you to Benkt Steentoft who organized the tournament! Hope we meet over the board soon, and may the best players win!