PLAY ONLINE OTHELLO TOURNAMENT IN June
1 June 2021Written by Othello News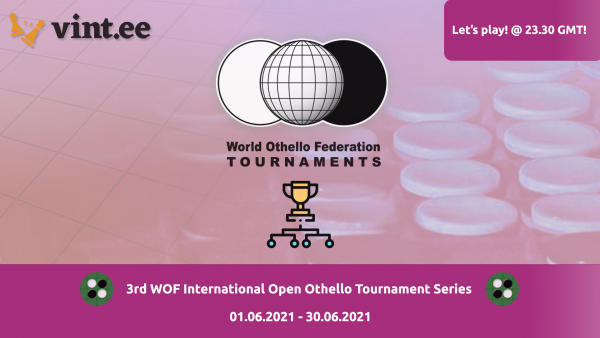 3rd WOF International Open Othello Tournament Series
Time

01.06.2021 - 30.06.2021


Description

3rd International Othello Open Tournament Series in vint.ee is organised in collaboration with World Othello Federation.

The tournament starts on 1st of June and lasts until 30th June.
Tournaments are played every day at 23:30 GMT!

There are 30 tournaments played during the period! Each tournament has 7 rounds and time control is 5 minutes + 2 seconds.

Vint.ee rewards 6 best players and there is a named prize to the winner of the tournament series by World Othello Federation!

Feel free to share the information and let's make it the biggest online Othello tournament series in the world!

Tournament series scoring system

The tournament points of 16 best tournaments will be summed up .