1st European Othello Championship 2022
2 July 2022Written by Othello News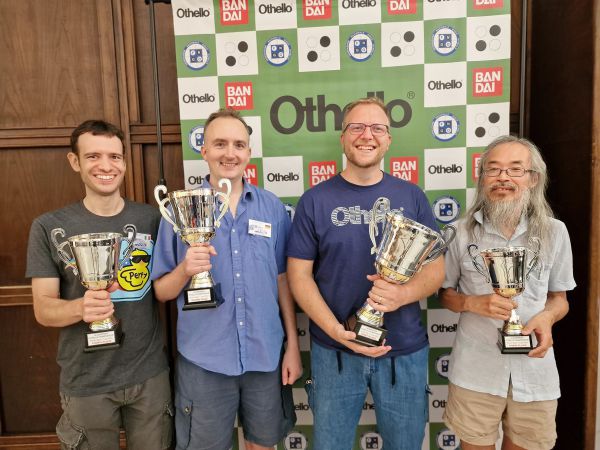 The 1st European Championship was finally held in Rome, Italy. Due to Corona, the EOC was postponed until now. 52 players joined to a very warm Rome. It was a very interesting tournament who was uncertain until the last round who was going to each round.
The EOC organizers Italian Othello Federation (FNGO) & the European Othello Confederation (EOCF) worked hard to make this first European Championship to a success. There was a lot of uncertainty regarding restrictions on travel and arrangements, costs that increased exponentially, and concerns about having to cancel the tournament again just before the start. Just weeks before the start, players start getting sick again from Corona, so the concern was justified. Therefore, it was with pleasure to note that there were 52 players who participated.

Among the over 50 players, many of Europe's top players came, with ambitions to fight for the title "1st European Champion". Italy, as host, put their hope in Borassi, Sperandio and Di Mattei to try to win both the individual and team titles. European players who wanted to take up the fight with the Italians for the title were among others the Dutch Nicky Van den Biggelaar, the French Takuji Kashiwabara and Marc Tastet (former World Champion in 1992), the Swedes Oskar Eklund and Niklas Wettergren, the German Matthias Berg and the British David Hand.

FNGO report very good about the tournament. We quote their review of the tournament:
"The first European Championship was a success, not only for the results obtained by our players. The Federation managed every aspect of the competition, from the choice of location, from the purchase of cups, gadgets, lunches, to the technical management of the tournament itself. Not to mention the support to foreigners for the dinners before and during the competition and the social broadcasting of the event, with photos, interviews, live matches and everything that has made this European Championship a world-class tournament. For this reason we cannot fail to mention those people who have given up playing or who have played knowing that they are putting their performance behind the success of the event itself. Thanks therefore to Leonardo Caviola, to Paolo Scognamiglio, to Chiara Gigliucci."
STANDINGS

Standings top 4 EOC

1

ITA

2

DEU

3

FRA

4

ITA

Semi final Division I

33-31

21-43

3-4 game Division I

28-36

Standings top 4- Div. I

1

ITA

2

ITA

3

ITA

4

ITA

Semi final Division II

38-26

32-32

3-4 game Division II

08-56

Standings top 4 - Div. II

1

NOR

2

ISR

3

NLD

4

DEU

Semi final Division III

36-28

55-09

3-4 game Division III

41-23




Standings top 4 - Div. III

1

NDL

2

ITA

3

DEU

4

ITA

Semi final Division NEW

42-22

Standings top 4 - New

1

ITA

2

ISR

3

ITA

4

POL
Standings after round 11

Place

Name

Fed

Club

Score

MBQ

Discs

1-2

ITA

RM

9

874

412-292

DEU

9

865

427-277

3

ITA

MI

8.5

915

453-251

4-6

FRA

8

901

412-292

SWE

GBG

8

870

405-299

SWE

STH

8

863

386-318

7

FRA

7.5

824

398-306

8-12

NDL

7

883

466-238

NED

7

862

445-259

ITA

RM

7

861

384-320

ITA

RM

7

841

433-271

ITA

RM

7

728

311-393

13-17

ITA

NA

6.5

790

364-340

ITA

MI

6.5

775

352-352

ITA

RM

6.5

772

448-256

ITA

RM

6.5

763

430-274

NDL

6.5

715

370-334

18-25

FIN

6

788

356-348

GBR

6

771

387-317

ITA

GE

6

750

366-338

SWE

LOM

6

749

395-309

NOR

6

710

359-345

ITA

RM

6

708

321-383

ITA

FE

6

703

388-316

ITA

PD

6