15th Ouza-sen 2022
20 July 2022Written by Othello News & Takahashi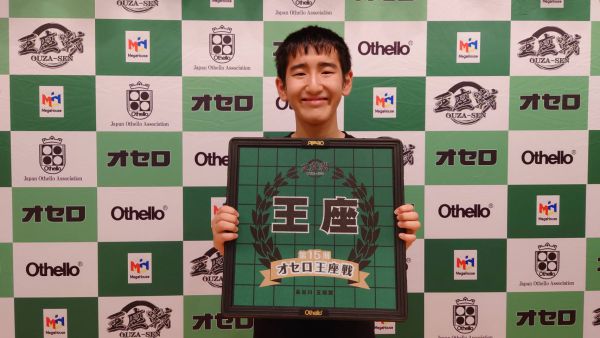 The last WOC qualification tournament for Japan was held July 10th. 70 players was invited to the Swiss-tournament Ouza-sen.
Six rounds was played, then a one game final between the two highest rated in the standings. The final was between reign World Champion Takahashi Akihiro and Ohmori Keita. The final ended 56-8 to Takahasi.

The players in the Ouza-sen final was both qualified to the World Othello Championship 2022, Paris, France, together with the 2022 Meijin Urano Kento and the female Meijin Okudaira Fuyumi.
Urano Kento ended at 14th place in Ouza-sen. Okudaira Fuyumi ended 26th in Ouza-sen 2022.
| | | | | | | |
| --- | --- | --- | --- | --- | --- | --- |
| # | Name | | Win | Lost | Draw | Points |
| 1 | Akihiro | Takahashi | 6 | 0 | | 384,0 |
| 2 | Keita | Ohmori | 5 | 0 | 1 | 381,0 |
| 3 | Masaki | Takizawa | 5 | 1 | | 350,0 |
| 4 | Seiya | Kurita | 5 | 1 | | 347,0 |
| 5 | Shiki | Shimomura | 5 | 1 | | 345,0 |
| 6 | Hiroshi | Goto | 5 | 1 | | 340,0 |
| 7 | Jo | Nakano | 5 | 1 | | 323,0 |
| 8 | Sohei | Sasaki | 4 | 1 | 1 | 329,0 |

The 15th Ouza-sen 2022 final
Akihiro Takahashi vs. Ohmori Keita ​​​​​​



Pictures: Takahashi