Indian Othello Championship 2022
1 September 2022Written by Othello News - Ashok Choudhary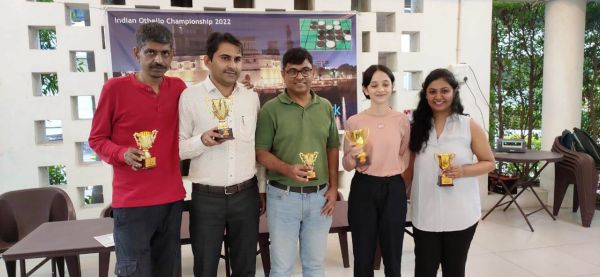 Indian Othello Championship 2022 was organized by the Indian Association of Othello, at Jamnagar, Gujarat under the sponsorship of Balark.
Ten players participated in the championship from all India, including top players from Gujarat where qualifying round was held prior to the championship. This was a 5 round championship followed by Semi-final and Final. IAO is proud to announce Mr. Ashok Choudhary (Mumbai) as the Winner of IOC2022 and 1st Runner-up was Mr. Amar Roy (Kolkata) and 2nd Runner-up was Mr. Mehul Vyas (Jamnagar).
For the very first time in Indian Othello Championship history Women's Final was held separately. We are proud to announce first Women's Champion Ms. Rishaya Jain (Mumbai) and first Runner-up Ms. Namrata Vyas (Jamnagar).