Kento Urano - 2022 World Champion!
4 November 2022Written by Othello News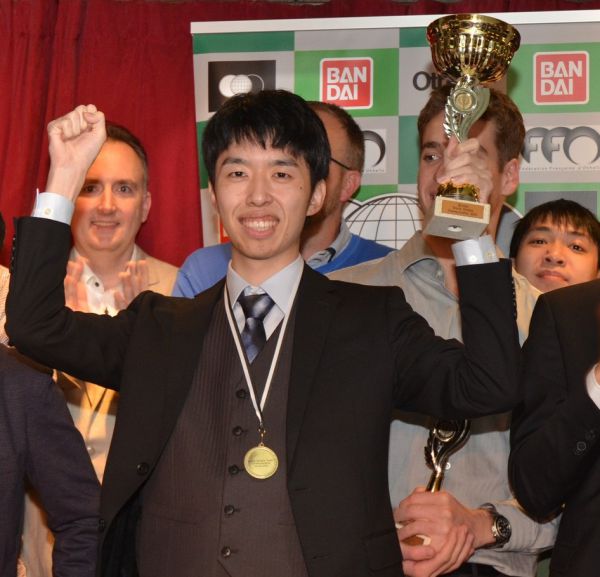 The 24th World Champion is Mr. Kento Urano from Tokyo, Japan. Kento is 23 years old, and a student of Tokyo university. He started to play Othello tournaments 2012. It have been almost 150 tournaments those ten years.
2018 Kento was the 39th Meijin High school class champion (15-18 years old). In Meijin 2018 he ended up as 4th player.
In round 8 Kento played the reign World Chammpion Akihiro Takahashi. They have now met seven times, and it is 4 - 3 to Akihiro Takahsi, so far. The game this year Kento won with 37-27.
Interesting to notify is that both players have won all thjeir games against eachother as Black. No win as White.

Kento Urano did not lose any games. He played 17 games and played one draw-game against Arthur Juigner in round 4. Mr. Hideshi Tamenori did this 1990. It is not so often this happens!
Final against Arthur Juigner, Switzerland. The first game ended 45-19 to Kento favor. The second game was very exciting. The game who started with the opening Tiger. Kento got a good start in the game and had the lead until move 20. From 24 Arthur had the advantage in the midgame. Move 40-42 was three X-move in a row. In move 48 Kento get a +2 position and kept it to the end.
This was an interesting game with many tricky moves from both players.



In semi-final Kento played Katie Pihljapuro, Finland. The first match ended 50-14 to Kento. The other was very exciting and a close game. Katie had a good position all midgame and until move 46 she look as finding her way to a win and one more game in the semi-final. In the endgame Kento succeed to find a way and win with 37-27.


In rond 12th Kento met Nicky van den Biggelaar, the Netherlands. It was a tight game with very few mistakes. Kanto did two moves who wasnt perfect, nicky did four. An almost perfect game. High level from the start to endgame.
The opening was Central-Rose-Bill/Dead Draw.
A nice midgame sentence was move 35-38. It was perfect endgame from Urano from move 34.

The Japan Othello team at the WOC 2022 victory dinner.
Japan took this year three of the four World Champion titles. In total three golds, one bronze and one 4th throphy.
Kento Urano won the World Championship and WOC Team Championship.