Othello in schools start up in Turkey!
20 February 2023Written by Othello News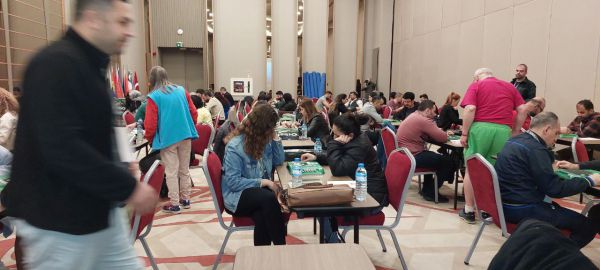 "Turkey Othello", the Turkish Othello players association have started up Othello in schools! In Antalaya they organised "The Turkish Mindsport" a meet-up where they organised Othello lessons for teachers. They also had an Othello tournament with 32 players.
David Kotin and Hana Kotinoiva, of the Czech Republic Othello Federation, were there and supported the Turkish Othello players. They gave a presentation of rules, history, basic ideas of tactics and strategy. "The teachers taught students as young as pre-school to middle or high-school age and they were very enthusiastic about learning" David said. Rauf Özgen of Turkey Othello said that they hope to come to the European Championship in Helsinki with a group of Turkish players. They plan youth Othello events all over the country. This Othello study day was a first step!