The 43rd Meijin, Japan
19 March 2023Written by Othello News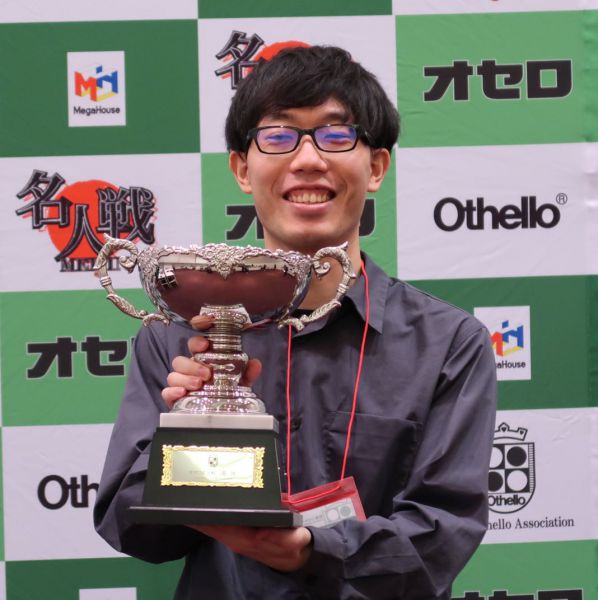 The 43rd Meijin was held on the 18th & 19th March 2023 and included 137 participants.

The Meijin Open Division was won by the 2017 All-Japan champion Seiya Kurita.
Kurita won the semi-final against the 2019 world champion Akihiro Takahashi, and then the final against Takashi Yamakawa (who finished third at the 2013 WOC).

The Meijin Women's Division was the WOC qualification tournament for the woman's spot on the Japanese team.
The first Women's World Champion (WOC 2005) Hisako Kinoshita, won a close game against the WOC 2022 Youth Champion Fuyumi Okudaira.
Seiya Kurita and Hisako Kinoshita have qualified for the upcoming WOC in Rome, Italy.
Meijin Open Division
137 players
1. Seiya Kurita
2. Takashi Yamakawa
3. Akihiro Takahashi
4. Yasushi Nagano
5. Yusuke Takanshi
6. Takeshi Murakami
7. Chihiro Kano
8. Kenta Yakushiji
9. Keita Ohmori


Final: ⚫ Takashi Yamakawa vs. ⚪ Seiya Kurita 30-34
3rd/4th Playoff: ⚫ Akihiro Takahashi vs. ⚪ Yasushi Nagano 38-26

Semi final 1: ⚫ Seiya Kurita vs. ⚪ Akihiro Takahashi 37-27
Semi final 2: ⚫ Takashi Yamakawa vs. ⚪ Yasushi Nagano 33-31

Meijin Ladies

17 players.
1. Hisako Kinoshita
2. Fuyumi Okudaira


Final: ⚫ Hisako Kinoshita vs. ⚪ Fuyumi Okudaira 35-29
Meijin Youth (Elementary School) Division
22 players
1. Yuga Shirai
2. Osuke Kawazoe
3. Yuta Hashimoto


Final: ⚫ Yuga Shirai vs. ⚪ Ousuke Kawazoe 45-19
3rd/4th Playoff: ⚫ You Tomita vs. ⚪ Yuta Hashimoto 30-34
Semifinal 1: ⚫Yuga Shirai vs. ⚪ You Tomita 32-32
Semifinal 2: ⚫ Yuta Hashimoto vs. ⚪Ousuke Kawazoe 13-51
Meijin Students & Under 13 Division
36 players
1. Atsuya Masuda
2. Chihiro Kano
3. Satoshi Kurahashi
4. Koya Saji


Final: ⚫Atsuya Masuda vs. ⚪ Chihiro Kano 36-28
3rd/4th Playoff: ⚫ Satoshi Kurahashi vs. ⚪ Koya Saji 34-30
Semifinal 1: ⚫Satoshi Kurahashi vs. ⚪ Chihiro Kano 14-50
Semifinal 2: ⚫ Atsuya Masuda vs. ⚪ Koya Saji 43-21
Meijin Masters +40
27 players
1. Masaki Takizawa
2. Kouji Kawarabayashi
3. Nobuyuki Takizawa
4. Tetsu Satani

Final: ⚫Kouji Kawarabayashi vs. ⚪ Masaki Takizawa 23-41
3rd/4th Playoff: ⚫ Nobuyuki Takizawa vs. ⚪ Tetsu Satani 41-23
Semifinal 1: ⚫Kouji Kawarabayashi vs. ⚪ Nobuyuki Takizawa 33-31
Semifinal 2: ⚫ Tetsu Satani vs. ⚪ Masaki Takizawa 29-35





⚫⚪