Mehul Vyas, The first West Asia Othello Champion
18 July 2023Written by Othello News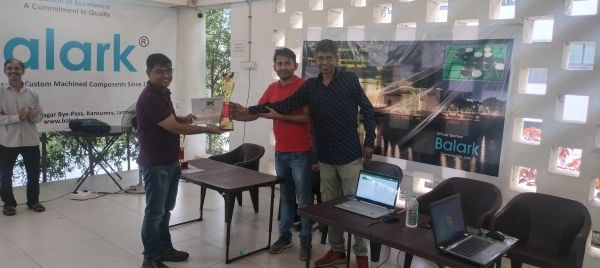 The West Asia Othello Championship 2023 was held in Jamnagar, India on the 15th and 16th July. Players from India, Pakistan, Iran, Bangladesh, Nepal and Sri Lanka planned to join the Championship. Unfortunately due to issues with visa approvals and the high costs of travelling to India, on tournament day there were only 16 players who joined.
Amar Roy went undefeated in the qualifications rounds on the first day with 8 wins. Amar qualified for the semi-finals as well as the three players on 6 wins, Somnath Panigrahi, Mehul Vyas and Ashok Choudhary.
On the second day, Amar Roy did not continue his unbeaten run in the semi-finals and lost to Ashok Choudary in 3 games (2-1). Mehul Vyas had lost in the qualification rounds against Somnath Panigrahi, but got his revenge in the semi-finals with a 2-1 win.
The final was also a close fight which went over three games. After the three games Mehul Vyas became the WOAC champion on tie-break with just 2 discs more than his opponent Ashok Choudhary. The overall final score was 1.5 - 1.5, and 97 discs against 95 discs in Mehul Vyas favour.
Congratulations to Mehul Vyas, the first West Asia Othello Champion!

The qualification rounds were held on Saturday 15th July.

Standings after 8 rounds
| | | | | |
| --- | --- | --- | --- | --- |
| # | Name | Country | Points | Discs |
| 1 | Amar Roy | India | 8 | 349 |
| 2 | Somnath Panigrahi | India | 6 | 376 |
| 3 | Mehul Vyas | India | 6 | 363 |
| 4 | Ashok Choudhary | India | 6 | 337 |
| 5 | Sanjay Dhapa | India | 5 | 263 |
| 6 | Rishaya Jain | India | 4 | 305 |
| 7 | Jayendrasinh Jadeja | India | 4 | 257 |
| 8 | Jessica Roy | India | 4 | 256 |
| 9 | Hardik Motivaras | India | 4 | 229 |
| 10 | Rajendrasinh Parmar | India | 4 | 215 |
| 11 | Jeram Kanjariya | India | 4 | 207 |
| 12 | Anil Parmar | India | 3 | 253 |
| 13 | Jaypal Chavda | India | 3 | 220 |
| 14 | Vijay Siyal | India | 1 | 188 |
| 15 | Shailesh Pandya | India | 1 | 158 |
| 16 | Jitendraw Makvana | India | 1 | 120 |

The Playoffs were held on Sunday 16th July
| | | | | | |
| --- | --- | --- | --- | --- | --- |
| Semi Final 1 G1 | Mehul Vyas | 37 | > | 27 | Somnath Panigrahi |
| Semi Final 1 G2 | Somnath Panigrahi | 34 | < | 30 | Mehul Vyas |
| Semi Final 1 G3 | Mehul Vyas | 36 | > | 28 | Somnath Panigrahi |
| Semi Final 2 G1 | Ashok Choudhary | 26 | < | 38 | Amar Roy |
| Semi Final 2 G2 | Amar Roy | 13 | < | 51 | Ashok Choudhary |
| Semi Final 2 G3 | Amar Roy | 3 | < | 61 | Ashok Choudhary |
| Final G1 | Mehul Vyas | 25 | < | 39 | Ashok Choudhary |
| Final G2 | Ashok Choudhary | 32 | = | 32 | Mehul Vyas |
| Final G3 | Mehul Vyas | 40 | > | 24 | Ashok Choudhary |
| 3/4 G1 | Somnath Panigrahi | 27 | < | 37 | Amar Roy |