2023 W.O.C. Teams: Switzerland
25 October 2023Written by Carlo Affatigato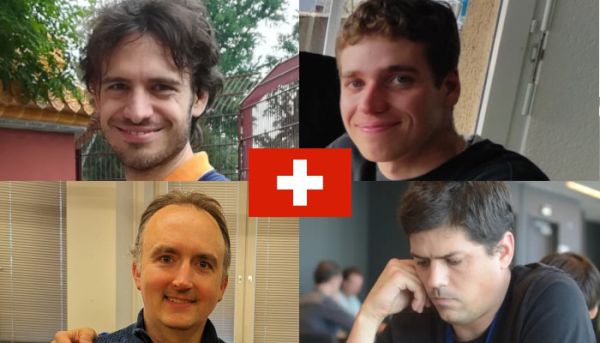 For all those who live in Europe, Switzerland is famous for its chocolate, its watches, its punctuality, and its beautiful landscapes. But most recently, the reason why everyone talks about it is because Switzerland is now the land of some of the best Othello players in Europe.
Okay, maybe the latter concept is more related to our community. But it's true, and it certainly represents an interesting curiosity. The Swiss team traveling to Rome in 2023 for the World Othello Championship includes Michele Borassi, Arthur Juigner, and Matthias Berg, respectively, player number 1, 2, and 5 in Europe, according to the latest ratings. And right next to them is Frédéric Joye, an experienced player who completes a team of four participants: three players qualified in the Switzerland Championship, and the additional spot dedicated to the winner of the 2023 European Othello Championship, Borassi.
Michele Borassi probably has the sweetest and most innocent smile in the European Othello community, but nevertheless, everybody seems scared of him when entering a tournament hall. It must be because of his historical results: besides being World Champion in 2008, he won the European Championship in 2023 (losing one game only) and finished last year's W.O.C. in third position. Qualifying as the European Champion represented a great satisfaction for him this year, but if you ask about his expectations for 2023 W.O.C., he will tell you he "just wants to enjoy and have fun." So you have nothing to worry about. Right?
For Arthur Juigner, the adventure in World Championship has been a constant escalation, always marked with impressive results. Since his first W.O.C. in 2011, his performances have steadily improved, and the second place achieved in 2022 clearly confirms his great moment. But don't just praise him: Arthur still believes he can improve; he spent this year working on the mistakes he identified from last year's World Championship and plans to arrive in Rome and prove to himself he's better than last year. If that translates into a better result also in the final standings, there can be something serious to celebrate.
Matthias Berg is participating in a World Othello Championship for the 22nd time in a row, this time for Switzerland. His dedication is well-known, and especially in the main tournaments, his gameplay is often the result of a careful preparation that preceded the competition. He's well aware of the exceptional level of his opponents this year, but he has no intention to lose any confidence, aiming somewhere in the first ten spots. He has all his direct competitors very clear in his mind, so yes, this is what "preparation" really means in Berg's vocabulary.
Frédéric Joye is returning to the World Championship after his 37th place in 2022, but he's taking it easy. Using a different approach, he's not trying to set challenging goals regarding his performance. Just the contrary, he will play with no pressure and freely observe how this will work out, with an eye on his teammates. It's actually the best precondition for the typical, surprising performance of someone out of the spotlight.
The Swiss team is on its way to Rome, and the 2nd place in the team ranking is a goal they don't really try to hide. Which leaves the question about the actual possibility of winning the W.O.C. as a team: Japan has always been the country at the top, but this year could be harder than ever. Especially if you look at the total scores Michele, Matthias, Arthur, and Frédéric collected in 2022. Math is always fun, especially while placing your bet on Fantasy Othello.