2023 W.O.C. TEAMS: Japan
30 October 2023Written by Joseph Rose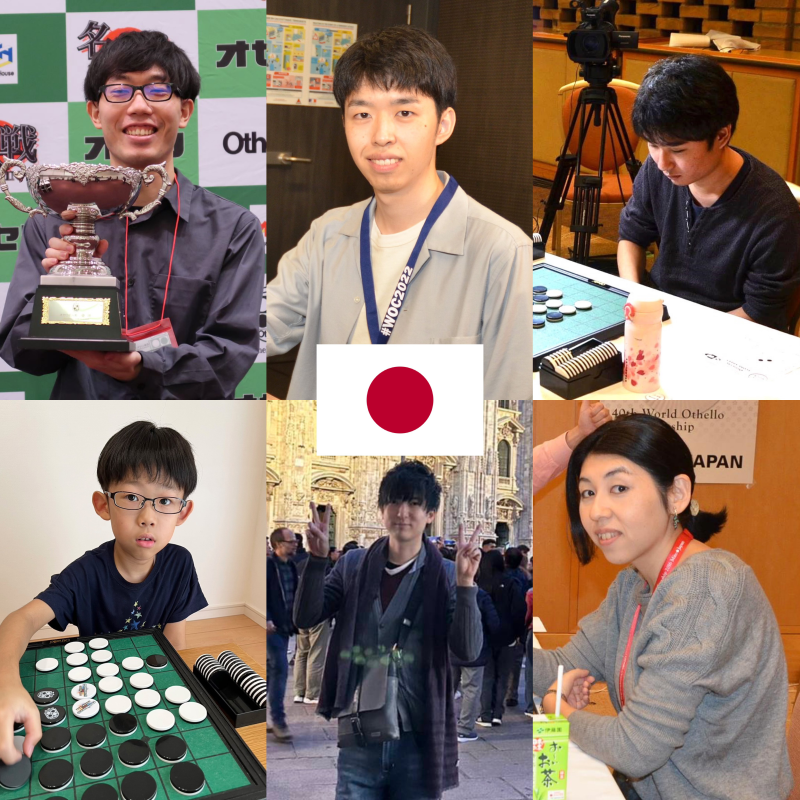 Ah, here it is, the article we've all been waiting for and the reason should be obvious. Despite all the delicious sushi, entertaining anime, creative music, beautiful mountains, landscapes and more that can be found on this archipelago, it is undeniable that Othello is another significant aspect of Japan. First, one must not forget about Mr. Goro Hasegawa, the Japanese superhero who devoted his time and effort using the caps of bottled milk as discs and ultimately making the game officially available to purchase at retail stores on April 29th, 1973. The Othello community has grown ever since in Japan, and the Japanese players have honed their time and energy to the game, leaving exceptional results as shown by their countless number of victories in the World Othello Championship series. Ever since the first WOC held in 1977, every year Team Japan surprises the world with its strong representatives, and they're showing no signs of stopping the record number of victories in the WOC.
This year I introduce you to six spectacular players who've proven to the world that they're not afraid of what's to come in the 2023 WOC: Seiya Kurita, Kento Urano, Yasushi Nagano, Osuke Kawazoe, Tetsu Satani and Hisako Kinoshita, respectively from top to bottom, left to right in the picture.
Let's start off with Seiya Kurita, ranked fourth in the WOF rating system. Kurita started his Othello journey in 2005 as a kid and has proven his potential in the game through his outstanding results in many tournaments. In 2012, he won first place in the Ouza-sen, one of the major tournaments in Japan, and finished in second place in 2017. He also won first place both in the All-Japan Championship in 2017 and in this year's Meijin-sen held in March. Needless to say, Kurita's also left a number of significant marks at the WOC, placing third in 2012 (Leeuwarden, Netherlands), seventh in 2017 (Ghent, Belgium), and third in the OWC held in 2013, proving to the world he's a player with a lot of strength. When asked how he feels about this year's WOC, he responded, "I want to relax and enjoy what's on the board in front of me for every game."
Yasushi Nagano is another player with enormous strength. Following Kurita, Nagano is currently ranked sixth in the WOF rating. He started playing Othello when he was 12 years old and has continued striving towards winning against strong players and leaving astonishing results. He won first place in the All-Japan Championship in 2016 and was the runner-up in this year's Ouza-sen. He feels confident for the WOC this year, stating that he "will win the 2023 World Othello Championship!" On top of that, he also feels very enthusiastic about "meeting players from all over the world." While he's aware that the players from overseas have also improved their strength and are more powerful than ever before, he would still like to claim first place in the team ranking as well.
Everyone who remembers last year's WOC should certainly know who Kento Urano is. After his victory against last year's runner-up Arthur Juigner, Urano won the 2022 World Othello Championship, and in addition to that, his results in other tournaments have also displayed his powerful strength: he won first place in last year's Meijin-sen, and he also won first place in the 1st Asia-Pacific Othello Championship held this year in June, claiming his spot as a 2023 Team Japan representative. One of his unique characteristics, as seen in last year's Othello livestream, is his patience and calmness when reading the moves ahead. His precision and accuracy have been highly praised by the other strong Japanese players, and he feels optimistic towards this year's WOC, as he states he's " very confident in becoming the WOC champion again."
Osuke Kawazoe qualified for this year's WOC at the Othello Shogakusei Grand Prix, the tournament held every year in Japan for elementary-school students from all over the country. This year there were a total of 1,170 kids who participated and Kawazoe shined in first place. Kawazoe started playing Othello at just the age of four and now he's in 5th grade. However, one should never underestimate the strength of Japanese children in Othello, as seen by Keisuke Fukuchi, the 2018 World Othello Champion (Prague, Czech Republic), and Akihiro Takahashi, who was the runner-up in the 2017 World Othello Championship (Ghent, Belgium) and later became the World Othello Champion in 2019 (Mito, Japan). Kawazoe is ready to face players from all over the world, as he's going to "work hard to become the World Othello Champion!"
As one of the Japanese players who's written a book on Othello, Tetsu Satani claimed first place in this year's Ouza-sen after winning a nerve-racking match against Yasushi Nagano and thus qualifying for this year's WOC. This was his second time winning first place in the tournament, his first one in 2019. His achievements in the major tournaments in Japan doesn't stop there, however. In both 2012 and 2016, he placed third in the All-Japan Championship, and he also won third place at the 2019 WOC (Mito, Japan), showing to the world his vigorous skills in the game. He arrived a bit early to Italy this year to settle in and get comfortable with the scenery, and without a doubt, is "aiming for first place!" He's also very excited to see the players he was inspired by back when he was spectating the WOC games in Japan and is looking forward to playing against them.
Last but certainly not least, there's Hisako Kinoshita, a veteran player who's been playing the game since her senior year in college. She's left numerous outstanding results that display her powerful strength and potential: in both 2002 and 2004, she won first place in the All-Japan Women's Division, and in 2005, 2016, and 2023, she claimed the Female Mejin title. Her results in the open division are remarkable as well, placing 7th in the 2005 WOC (Reykjavik, Iceland) and 5th in the 2016 WOC (Mito, Japan). She feels "very excited to play against players from all over the world in person and would like to play as many good games as possible!"
The Japanese Team is thrilled to play at this year's WOC in Rome and is aiming for nothing but 1st place in the team ranking. Even if all of the players may seem scary to you given their results listed above, don't worry, they are all kind and friendly, so if you ever get the chance to meet or play against them, make sure to say "Hello!" and "Good luck!"