Niklas Wettergren wins Sandsborgs Open, Sweden
27 January 2018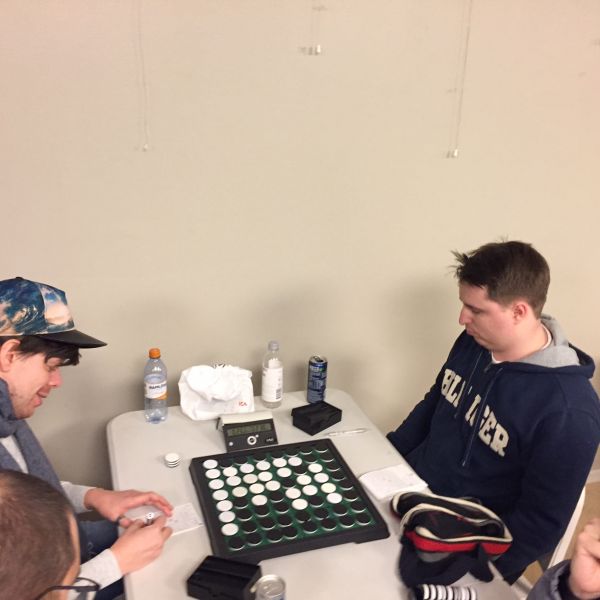 Sandsborgs Open was a nice and exciting competition. 16 players participated; They came from Borås, Linköping. Gothenburg, Gävle and Stockholm. It was an exciting competition, in the final round there was a fight between five players, Niklas Wettergren, Marcus Frönmark, Caroline Odsell, Jeroen Everts and Daniel Turunen.
In the final round, Jeroen and Daniel played draw. Niklas met Caroline and won the match. Marcus won against Arvid Kjellberg.
Niklas Wettergren won the tourney before Marcus and Caroline came third place.
It was a cold winter day in Stockholm. It was a little cool even inside, as it you can see at the pictures. However, it was a warm and positive feeling for all the players who enjoyed themselves and had fun.
Best Amateur (Class III) players became Tommy Rönn with three wins.
Best Class II player became Jan Zemelka.

Sandsborg Open 2017

Ranking of the 16 players after round 7:

1: 6. pts [482] WETTERGREN Niklas (150009) {SWE}
2: 6. pts [450] FRONMARK Marcus (1454) {SWE}
3: 5. pts [436] ODSELL Caroline (1577) {SWE}
4: 4.5 pts [449] EVERTS Jeroen (5231) {SWE}
5. 4,5 pts [420] TURUNEN Daniel (1459) {SWE}
6 . 4. pts [421] EKLUND Oskar (150016) {SWE}
7. 4. pts [395] STEENTOFT Benkt (1301) {SWE}
8. 4. pts [368] ZEMELKA Jan (1533) {SWE}
9: 3. pts [380] INGELMAN-SUNDBERG Simon (1495)
10. 3. pts [373] KJELLBERG Arvid (1599) {SWE}
11. 3. pts [368] JOHANSSON Erik (1493) {SWE}
12. 3. pts [359] FREIBURGHAUS Kim (150060) {SWE}
13. 3, pts [296] RONN Tommy (150058) {SWE}
14: 2. pts [304] HELLGREN Bo (1313) {SWE}
15: 1. pt [245] ERIKSSON Matilda (150061) {SWE}
16: 0. pt [190] Jansson Ingrid (9055) {SVE}