Matthias Berg wins European Grand Prix Warsaw
27 March 2018Written by Tom Schotte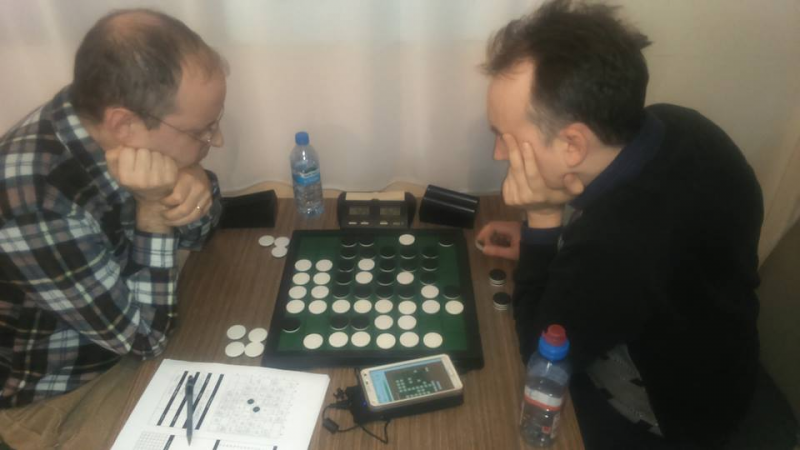 In the weekend of March 17 and 18 no less than 12 local heroes and 8 foreigners gathered in Warsaw for the second tournament of the European Grand Prix 2018. The Polish capital was the location to look for the successor of Takuji Kashiwabara, who won the tournament two years ago in a close combat against his compatriot Marc Tastet. Both players were also present this weekend. Also the number three of two years ago, Belgian Tom Schotte, made the journey to Warsaw once again. The winner of the first international event of the season, Matthias Berg, travelled from Germany by night train to defend his lead in the main European competition. Other candidates for the victory were "locals", tough living in other parts of Poland: Pawel Peczkowski, Dominik Nowak, Bartlomiej 'Bartek' Sury and Arkadiusz 'Arek' Zieba. Only Pawel Peczkowski could taste the smell of victory before. He won the first European Grand Prix tournament in Poland (2004) and the Brussels tournament in 2007.
Leading the Swiss
As of the first round some important games were played. Matthias won against Bartek, while Dominik won against Marc. Also Pawel won against Takuji. It was pure coincidence that so many strong players were already paired together. Especially for Matthias this continued, with games (and victories) in the next two rounds against Pawel and Arek. One more player managed to score three points in the first three games and that was Tom. But the road was very different: he did not play any of the favorites. Lunch was only planned after round 4, and Matthias managed to defeat his Belgian opponent and took the sole lead. Several players kept a close eye on the first position with three points. With two more victories against Dominik and Takuji, Matthias already faced the majority of the stronger players ánd was still unbeaten. In the last round of the day, Matthias faced Marc who was also his opponent in the final of the Cambridge European Grand Prix. The Frenchman won this game and scored an important fifth point. In another important game, Bartek defeated Takuji and joined as such Matthias at the first position. Dominik scored a fifth point against Pawel. Matthias could already smell the final, having played the 7 strongest opponents in the first seven rounds. All other players still had to play at least two games amongst each other. Bartek, Marc and Dominik had the best chances on the final and play-off spots. Five other players on four points still had a chance, but had to outerperform on Sunday morning.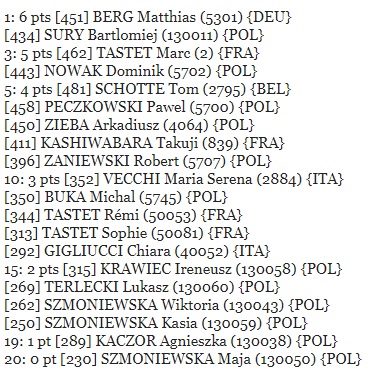 Day 2
A new day and new chances for every one. As expected, Matthias did not encounter difficulties on the second day and could even try out a fancy X-square opening against Michal Buka, which resulted in a draw. Tough still heading straight to the final. Unfortunately Bartek did not have such a fortunate morning, with two losses in the first three rounds against Dominik and Arek. Also Dominik lost a game against Tom along the way to the final round of the day. Marc performed way better with three straight wins, included a victory against Takuji and Arek. The latter had a win on the board, but timed out in the very last second.
Round 11 turned out to be crucial: with Mathias already in the final, the focus was on who would become his opponent. Both Pawel and Bartek had 7 points, but played against opponents of the second half of the draw. Marc on 8 points, in contrary, still had to play Tom. Losing this game would mean that the spot in final would be decided on BQ, and that was heavily in favour of Pawel. All other players were out of business, leaping one point behind Pawel and Bartek, but knowing they would probably win easily. The game against Tom turned out to a close game, but after one mistake of the Belgian Marc could win it well controlled. With this victory he could give it another try against Matthias, aiming to do better than in Cambridge. Pawel and Bartek qualified for the play-off.
Four other players qualified for two more finals: Chiara Gigliucci and Maria Serena Vecchi qualified for the womens final, while Rémi Tastet and Ireneusz Krawiec claimed their in the junior final (born 2004 or later).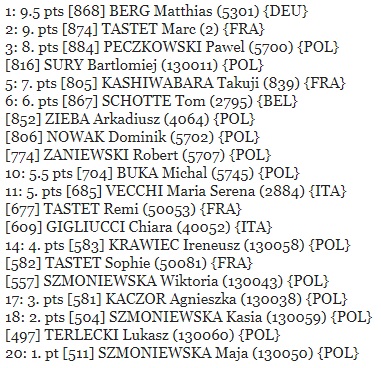 The finals
Matthias repeated what happened in Cambridge: 2-0 (25-39 39-25). Marc did 1 disc better in each game the last month. Pawel won the play-off against Bartek (27-37). In the other finals, Chiara won the game with 20-44, but lost on time. Rémi won easily his game with 50-14.
With this victory, Matthias berg expands his lead on Marc Tastet to 120 points. He now totalises 400 points against 280 points. Both Pawel Peczkowski and Niklas Wettergren have 90 points and share the third place. Is looks like this year is going to be a fight between Matthias Berg and Marc Tastet. Takuji Kashiwabara, who has won the last five European Grand Prix series, only has 43 points and is already far behind. The next tournament will be held in Stockholm, Sweden, in the weekend April 28-29.
Fun facts
Jubilees
Matthias Berg won his 8th European Grand Prix tournament and moves up to an all-time 9th place in the medal mirror list, overtaking Francesco Marconi. With winning his second tournament in only 28 days, he joins 5 players who did the same (Albert Kortendijk, Michele Borassi, Emmanuel Caspard, Graham Brightwell and Takuji Kashiwabara). Two players managed to win 2 tournaments in 21 days: Michele Borassi and Takuji Kashiwabara. Tough there is another record at stake: Michele Borassi won 3 (consecutive) tournaments in a time frame of 70 days. If Matthias Berg wins in Stockholm, he would do the same.
Marc Tastet lost his 7th consecutive final.
Germany as a country now won 10 tournaments, equalling Poland. While Germany only has 2 players having won tournaments (Berg/Hoehne), Poland has 4 (Cupial/Lilla/Kazimierczuk/Peczkowski).
Matthias Berg crossed the barrier of 3000 European Grand Prix points in 32 tournaments. Only Imre Leader was faster, he did it in only 29 tournaments.
Jubilees
Marc Tastet: 25th second place
Pawel Peczkowski: 10 times top 4 (2-3-3-2)