The Cambridge EGP 2023
19 February 2023Written by WOF Media Team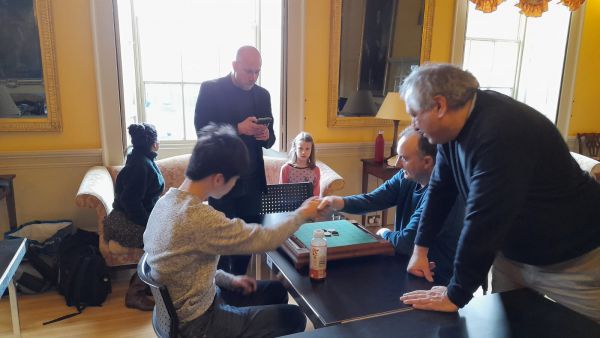 The Cambridge European Grand Prix Tournament 2023
The 18th and 19th February saw the welcome return of the European Grand Prix at the Cambridge EGP at the idyllic Trinity College, Cambridge. It was an incredibly close tournament and going into the final round of the Swiss, there were still four players that could theoretically make the final. Our Japanese guest, Tomoki Otaka (whose family has temporarily relocated to Europe), won his game against the seasoned French player Stéphane Nicolet, to confirm his place. The other seat was taken on tie-break by Matthias Berg, from Germany, who beat former World Champion, Marc Tastet. The most successful player in the history of the European Grand Prix, Takuji Kashiwabara from France, would have taken the final spot ahead of Matthias if he had managed at least a draw against Imre Leader but lost 33-31. Emmanuel Caspard, from France, for his come-back to the competition, would have needed a few more discs vs Ben Pridmore to make it to the final.
Tomoki, as white, had beaten Matthias 38-26 in round nine of the Swiss and elected to play white first in the best of three final. Matthias, who is known for his meticulous preparation, especially for individual games, went on to win the first two games (and therefore the title) 34-30. In Tomoki's own words: "He's so strong when in finals. I felt I'm playing with another person!".
So, congratulations to Matthias on his victory in the first EGP tournament of the year!
Some other areas of note were the performance of Rémi Tastet and Mark Plowman who both finished ahead of their vastly more experienced fathers, Marc and Guy respectively. It is possible that all might have been different if Marc and Guy hadn't played out an entertaining draw in round 8. Both players had indicated that they had believed during the game that one of them was going to die horribly but it ended up with Guy sacrificing a huge number of stable discs to get control. There were a huge number of viable lines available to both players making it difficult to read the early endgame and small errors on both sides left the game equal.

Link to the official European Grand Prix page. EGP Standings and results.
Standings after 11 rounds
| # | Name | Points | MBQ |
| --- | --- | --- | --- |
| 1. | Tomoki OTAKA (JPN) | 9 | 851 |
| 2. | Matthias BERG (DEU) | 8 | 830 |
| | Takuji KASHIWABARA (FRA) | 8 | 827 |
| | Emmanuel CASPARD (FRA) | 8 | 822 |
| 5. | David BECK (GBR) | 7 | 821 |
| 6. | Imre LEADER (GBR) | 6.5 | 803 |
| 7. | Stéphane NICOLET (FRA) | 6 | 801 |
| | Carlo AFFATIGATO (ITA) | 6 | 730 |
| | Rémi TASTET (FRA) | 6 | 695 |
| | Mark PLOWMAN (GBR) | 6 | 695 |
| 11. | Marc TASTET (FRA) | 5.5 | 803 |
| | Guy PLOWMAN (GBR) | 5.5 | 767 |
| | Emmanuel LAZARD (FRA) | 5.5 | 767 |
| 14. | Ben PRIDMORE (GBR) | 5 | 682 |
| | Digby CHAPPELL (GBR) | 5 | 662 |
| 16. | Luke PLOWMAN (GBR) | 4 | 624 |
| | Sophie TASTET (FRA) | 4 | 607 |
| 18. | Graham CHAPPELL (GBR) | 2 | 543 |
| | Anya PLOWMAN (GBR) | 2 | 453 |
| 20. | Sophie PLOWMAN (GBR) | 1 | 517 |