The Barcelona EGP 2023
27 March 2023Written by Carlo Affatigato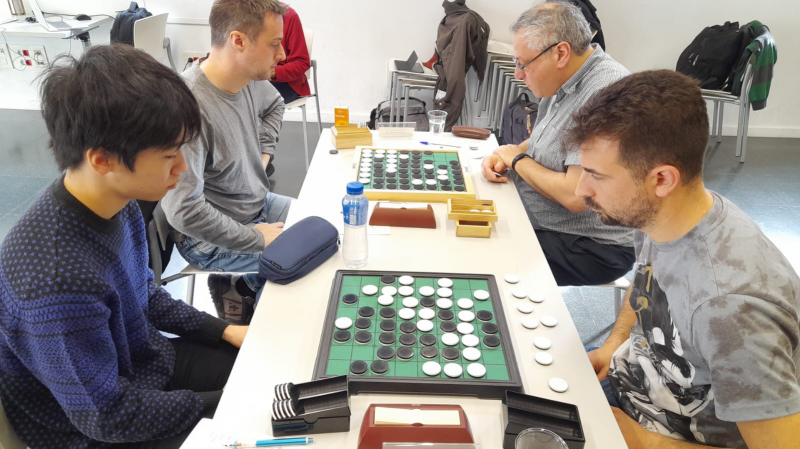 It's Saturday morning, and the second installment of the European Grand Prix 2023 is about to start. The atmosphere is pretty exciting. All players arrived at the venue quite early, representing many parts of Europe: Imre Leader (United Kingdom), Takuji Kashiwabara and Marc Tastet (France), Roel Hobo (Netherlands), Tomoki Otaka (originally from Japan, currently residing in Austria), Paolo Barsotti (Italy), and many of the top players representing the host nation Spain: Carlo Affatigato, Velma Fu, Mario Madrona, Sergio Ramirez, among the others. The venue - the Convent de Sant Agustí Cultural Center - is quite cool, a peaceful oasis nicely situated in the center of Barcelona.
Given the level of competition, it's easy to understand how difficult it is to maintain the same level of mastery for two days. The first day proceeded without many surprises: Leader dominated the table with a full/perfect score, including key victories against Tastet, Fu, Saiz, Kashiwabara, and Otaka. Three players remained two points behind Leader (Kashiwabara, Tastet, and Saiz), with the rest of the table reflecting the other competitors' ratings pretty consistently.
On the other hand, Day 2 ended with several surprises: Leader collected only 1.5 points, with losses against Affatigato and Ramirez, and a draw against Madrona. Similarly, Tastet and Kashiwabara collect two points across four matches: both lose to Madrona, Hobo steals a point against Tastet, and Affatigato manages a upset win against Kashiwabara in the last game of the round-robin play. The most impressive Day 2 performances were from Madrona and Otaka. Madrona elevated to 4th place after collecting a heavy 3.5 points, while Otaka swept his competition, putting him in 3rd. The biggest surprise was perhaps from Affatigato, with three consecutive wins against Kashiwabara and Fu, in addition to his aforementioned win against Leader. All of these exchanges impacted the final standings: Leader succeeds in securing first place, Saiz edged out Otaka for second place by a six-disc accumulation, and Madrona completes the group of four who play the final in the afternoon.
In the finals, Otaka did a great job attacking Madrona's mobility in the endgame, winning the playoff 41::23. In the two main finals, Leader displayed his most unpredictable side, playing both games sharply and building positions that were difficult for Saiz to manage. In winning both matches (38::26 - 29::35), Leader is the overall winner of the Barcelona EGP.
Factoring in the general standings of the EGP 2023, Leader and Otaka sit atop the standings with 230 points, followed by Matthias Berg with 200 points (collected at Cambridge EGP) and Saiz with 140 points. The two-day Barcelona's engagement ended with general satisfaction among all players, with most of them looking forward already and preparing for the European Championship (planned in Helsinki) a few weeks later. The competition is still on!
The Barcelona EGP 2023 on liveothello
Official European Grand Prix page on WorldOthello: Standings and results
Standings after 11 rounds
| # | Name | Points | MBQ |
| --- | --- | --- | --- |
| 1. | Imre LEADER (GBR) | 8.5 | 823 |
| 2. | Ruben SAIZ (ESP) | 8 | 798 |
| | Tomoki OTAKA (JPN) | 8 | 792 |
| 4. | Mario MADRONA (ESP) | 7.5 | 787 |
| 5. | Marc TASTET (FRA) | 7 | 822 |
| | Roel HOBO (NLD) | 7 | 779 |
| | Takuji KASHIWABARA (FRA) | 7 | 767 |
| | Carlo AFFATIGATO (ITA) | 7 | 760 |
| 9. | Sergio RAMIREZ (ESP) | 6 | 682 |
| 10. | Velma FU (HKG) | 5 | 712 |
| 11. | Martin MENDOZA (ESP) | 2 | 624 |
| | Oscar MARTINEZ (ESP) | 2 | 582 |
| 13. | Paolo BARSOTTI (ITA) | 1 | 561 |
| | Oscar FERRER (ESP) | 1 | 521 |