Yasushi Nagano is the 2023 World Othello Champion
7 November 2023Written by Carlo Affatigato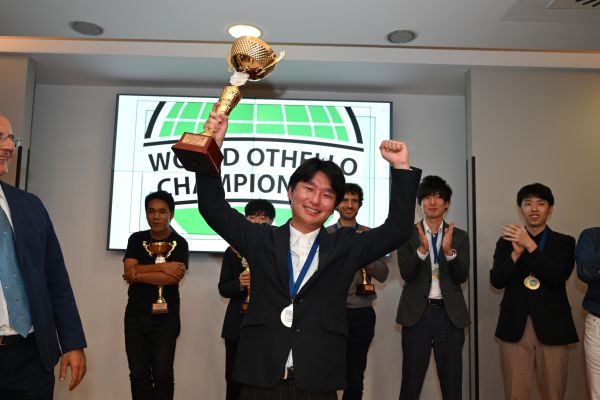 On November 5th, 2023, Yasushi Nagano from Japan won the 45th World Othello Championship, becoming the new World Champion!
The achievement arrives after an incredible tournament with many top players in outstanding conditions. The 13 rounds of the championship were dominated by Seiya Kurita, who led the standings with 13 wins. Yasushi Nagano finished the tournament in 4th position and needed to secure his place at the finals with the playoff against Tetsu Satani: it was the first time in the history of Othello that a player entered the finals through a playoff and then became World Champion. In the semi-finals, Nagano won both games against Kurita, marking Kurita's only two losses in the whole Championship. The main finals were played in the afternoon of Sunday, November 5th, 2023, between Nagano and Rujipas Aunchulee from Thailand: Yasushi Nagano became the World Champion after winning both games against Aunchulee.
Yasushi Nagano qualified for Japan in the 2023 World Othello Championship as the runner-up in the 2023 Ouza-sen. He started playing Othello when he was 12 years old and has continued striving towards winning against strong players and leaving astonishing results. With a discreet dose of irony and a complete lack of interest in superstition, Yasushi Nagano already announced he would have been the World Champion one week before the tournament began: "I will win the 2023 World Othello Championship," he said here to Joseph Rose, showing his best confidence in preparation for the championship. However, things were not easy at all: in a competition where everybody kept looking at Kurita's stable dominance of the first place, Nagano ended the tournament in 4th place with 9.5 points, with three losses (against Makoto Suekuni in round 2, Seiya Kurita in round 9 and Tetsu Satani in round 12) and one draw (against Rujipas Aunchulee in round 8).
Nevertheless, his performance on the day of the finals was astonishing. His first semi-final against Seiya Kurita was one of the most exciting matches of the whole championship, with Nagano playing a shocking x-square on move 36.
It's a perfect example of Nagano's incredible ability to see the right move in highly complex positions, evaluating options that generally stay out of sight for most players in the world. Something similar happened in the first final against Rujipas Aunchulee, where Nagano identified an unexpected b1, creating the conditions for a straightforward endgame where white kept parity but no positional advantage.
Nagano played the 2023 World Championship with great concentration, releasing his most spontaneous smile only after his last victory. Of course, he was the protagonist of Sunday's victory dinner, during which the Italian staff didn't miss the chance to make him play again for more friendly games before the food arrived: a form of cruelty that didn't go unnoticed.